Value of Medical Innovation
The Value of Medical Innovation: An Overview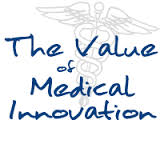 The mission of the life sciences community — in New Jersey, across the United States and around the world — is as ambitious as it is straightforward:
To research and develop new medicines, therapies, medical devices, technologies and diagnostic tools that will be used to treat and cure myriad illnesses, including the world's most dreaded disease states.
Driven by innovative research and cutting-edge technologies, the life sciences community — which includes biopharmaceutical, biotechnology, and medical technology, device and diagnostics companies — has helped people live longer, with less pain and enjoy a better quality of life.
As a result, costs related to health care are significantly reduced.
Medical Innovation: Improving Lives — Saving Lives
Collectively, new therapies have been among the greatest contributors to increased life expectancy over the past century.
The President's Council of Advisors on Science and Technology in 2012 stated that innovative medicines had played a "profound role" in this impressive life-expectancy progress.
Medical Innovation's Underappreciated Benefit: Cost Savings
With medical innovation — past, present and future — comes an often underappreciated benefit:
The incalculable billions of dollars in savings to patients, their families, insurers, employers, governments and hospitals in avoided medical expenses associated with keeping people healthy or curing them of a life-long, chronic condition.
By eradicating a disease, people no longer need to seek or spend money on treatment.  And by better managing and preventing more serious complications from an existing disease, people avoid more costly medical care.
Medication Adherence's Critical Role to Human Health
Medication adherence plays a critically important role in health-care savings, as medical innovations can provide no benefit if patients do not use their treatments as prescribed by their physician.
Life Sciences Research: Research and development (r&d)
Despite the dramatic, life-saving advancements that the life sciences sector has achieved, our work is far from done.
Every day, teams of scientists at life sciences companies in New Jersey go to their labs to research and develop the next generation of medicines, therapies, devices, technologies and diagnostic tools that will alleviate life-altering and life-saving diseases.
The Cost of Medical Innovation: Money, Time, Risk
For patients, medical innovations result in fewer hospitalizations, improved quality of life, increased productivity and, importantly, extended lives.
However, medical innovation is a costly, lengthy, risky, and scientifically and regulatory complex process.
Developing a new prescription medicine that gains marketing approval, a process often lasting longer than a decade, is estimated to cost $2.87 billion.
Conclusion: Medical Innovation Is a Key Part of the Solution
Medical innovation is complex, high-risk, time-consuming and extremely expensive.
However, it is clear that medical innovation is, despite claims to the contrary, a key part of the solution — not only to alleviating human suffering, but also to reducing significantly the incalculable costs associated with treating that suffering.
As a society, we need to recognize the enormous multifaceted return on the investment in medical innovation, and nurture — rather than stifle — the virtuous cycle of better health, longer life and economic benefit resulting from life sciences innovation.
Medical Innovation Resources:
Updated 08/29/17