Members Portal &nbsp Join &nbsp Contact
HINJ Co-Sponsors New Jersey Health Care Stakeholders Summit
More than 100 professionals attended the New Jersey Health Care Stakeholders Summit held on April 27 at the New Jersey Hospital Association (NJHA) headquarters in Princeton.
The day-long event was co-sponsored by HINJ, the Medical Society of New Jersey (MSNJ), the New Jersey Association of Health Plans (NJAHP) and NJHA. Participants included representatives of HINJ member companies and the sponsor organizations, along with policymakers, health care stakeholders, patient representatives, business leaders and journalists.
Dr. Harold Paz, Chief Medical Officer of Aetna, deliver the keynote presentation. The morning panel discussion provided "An Environmental Assessment of Healthcare: Where We're Going Nationally." The panelists were from America's Health Insurance Plans, the American Hospital Association, the American Medical Association and PhRMA.
The afternoon topic, "New Jersey's Health Care Ecosystem: Impacts to Our Home State," was discussed by a panel of association presidents composed of Cathleen Bennett of NJHA, Larry Downs of MSNJ, Dean Paranicas and Wardell Sanders of NJAHP.
You can read stories about the event in New Jersey Business and also NJSpotlight.
CIANJ & HINJ Thank Rep. Gottheimer for His Support of the Medical Device Tax Suspension
January 25, 2018, Paramus – HINJ President and CEO Dean J. Paranicas (right) expressed appreciation to Rep. Josh Gottheimer (at podium) during today's event for his vote to suspend the innovation-stifling, job-threatening medical device tax. CIANJ President Anthony Russo (left), who hosted the event, also spoke.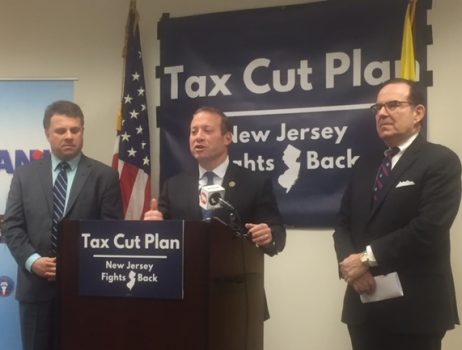 HINJ and Rutgers Co-Sponsor Medical Device Seminar Series
HINJ President and CEO Participates in Panel on ACA
Dean Paranicas participated in a February 23 panel discussion sponsored by the Chamber of Commerce Southern New Jersey (CCSNJ) on "The Future of Health Care and the ACA," which was part of the Chamber's "Make New Jersey Competitive" series. The event, which was held at the Hotel ML in Mt. Laurel, drew nearly 150 attendees.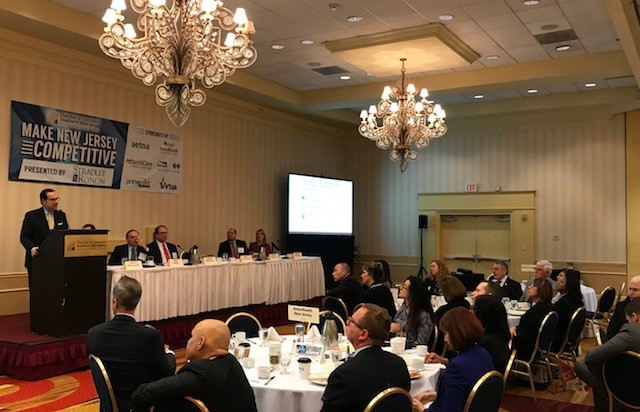 HINJ Co-Sponsors Rare Disease Day Event
HINJ President Testifies at Inaugural Hearing of Assembly Science, Innovation and Technology Committee
Trenton, February 1, 2018 ― Dean J. Paranicas, President and Chief Executive Officer of the HealthCare Institute of New Jersey (HINJ), testified today (Feb. 1) at the inaugural hearing of the Assembly Science, Innovation and Technology Committee.
Paranicas said the panel will play a valuable role by focusing on the needs of New Jersey's innovation economy, "which has a long legacy as a global leader spanning more than a century in chemicals, pharmaceuticals, telecommunications and food processing, all of which have their roots here."
The state has made tremendous progress to foster innovation and research in recent years, he said, but more needs to be done. Along with offering specific recommendations, the HINJ President said: "A state's attitude goes a long way in setting the tone.  In our case, New Jersey needs to embrace the life sciences as Texas embraces oil and gas and Michigan embraces the automobile industry."
Paranicas commended Assembly Speaker Craig Coughlin for establishing the committee and expressed appreciation to Assemblyman Andrew Zwicker for agreeing to serve as Chairman and to the Committee members for their participation.
The full text of Paranicas' testimony is posted on the HINJ website here.
HINJ Media Contact:
Edward F. Tate III
Director of Communications
732-729-9619, ext. 344
tate@hinj.org