Members Portal &nbsp Join &nbsp Contact
NJBIZ: Why the Garden State continues to attract life science companies
The state's century-plus legacy as "the medicine chest of the world" and its continuing commitment to innovation mean New Jersey is likely to remain a life sciences powerhouse, said Dean J. Paranicas, CEO of the HealthCare Institute of New Jersey, HINJ, a trade association for the state's research-based biopharmaceutical and medical technology industry.
"New Jersey continues to replenish and nourish an innovative ecosystem consisting of the academic, private and public sectors, and we offer an incredible, educated workforce," he said. "The New Jersey-New York region ranks No. 3 on Genetic Engineering & Biotechnology News' 2018 top 10 U.S. biopharma clusters list, while Philadelphia is ranked No. 6."
He said the state's value isn't limited to just the number of companies, though. "The fact is, there are all kinds of collaborations going on," according to Paranicas. "Established companies and new ones work together, the academic community gets involved, and value is also added by the state's comprehensive vendor network, and a strong manufacturing base. The topping is the state's position as a transportation hub, easy access to capital markets, and a diverse population. I'm excited about the future."
It's Never Too Early to Introduce Students to STEM Says BMS Scientist, Rutgers Grad
The following Q&A and background was provided to HINJ by our friends at S2S.
Elizabeth Galella, a senior research scientist at Bristol-Myers Squibb, volunteers her time to teach and inspire New Jersey children through Students 2 Science Inc. (S2S), a non-profit model program which operates laboratories in Newark and East Hanover and provides hands-on, authentic STEM experiences to elementary through high school students across New Jersey. 
What is your background? Current position? I received my BS and MS degrees in chemistry from Rutgers University and have been employed at Bristol-Myers Squibb (BMS) for the past 22 years. BMS is a global biopharmaceutical company whose mission is to discover, develop and deliver innovative medicines that help patients prevail over serious diseases. I am a Senior Research Scientist and my primary role involves managing the analytical development and support of small molecule drug product formulations. In recent years, I have become a subject matter expert in the area of pediatric product development, which has become a passion of mine.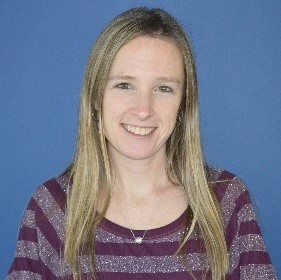 What initially brought you to S2S? What sparked your passion for S2S? Back in 2014, I was invited by a BMS manager to be a part of a volunteer group which was making a day trip up to the S2S East Hanover facility. It was a really enjoyable day, and I left there knowing that I wanted to continue to volunteer for S2S in the future. The students were very excited to be there and that is what definitely sparked my passion for the program!
What do you like most about volunteering at S2S? Following my initial trip to the East Hanover facility, I have often volunteered for Virtual Laboratory sessions at local schools. I enjoy volunteering for this aspect of the program because I feel that the students truly appreciate having real scientists in their classrooms assisting them with their experiments. They also get to chat with me and ask questions about what it is like to work in a scientific field or a pharmaceutical industry.
Why do you think volunteering is important? Volunteering is important because it not only provides adults who are in STEM fields to step out of their day-to-day job and excite students about learning, but it demonstrates to the students that people are willing to take time out of their busy schedules to teach them and show them how important it is to have role models.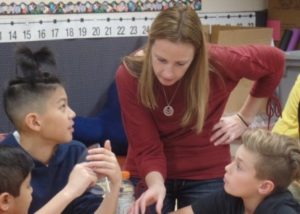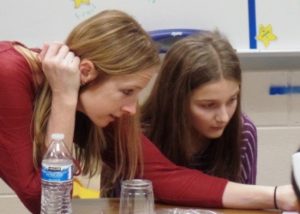 Elizabeth Galella volunteering at a V-Lab at Auten School in Hillsborough.
Why do you support the mission of S2S? I thoroughly support the mission and objectives of S2S. This program offers very unique opportunities for students of various ages, as it is never too early to introduce children to the importance of STEM-related studies and activities. Through S2S, students are able to gain valuable hands-on experience and make connections with people who work in the field. It is a wonderful way to inspire!
If you would like to volunteer at S2S, please email us at info@students2science.org or call (973) 947-4880 ext. 516. Sign up today!
Volunteering at Students 2 Science
Students 2 Science, Inc. (S2S) is a national model in authentic science education and urban community development, serving to bridge the needs of the public and private sectors. Our mission is to inspire, motivate, and educate elementary, middle and high school students to pursue careers in science, technology, engineering and math (STEM subjects). We do so by providing rigorous and hands-on STEM experiences in our state-of-the-art laboratories, complete with modern instrumentation and professional scientists. Additionally, we offer web-based, virtual STEM programs that broaden our reach to serve a wider audience.
Volunteers are an integral part of the success of the S2S model. Professionals (STEM and non-STEM) from the local community and corporations work side-by-side with our young students, providing them with support, inspiration, motivation and career advice.
S2S is currently recruiting volunteers for both our in-lab (ISAAC) and virtual (V-Lab) programs. For more information click here.
We make it easy for you to volunteer at S2S:
Flexible schedules to fit your needs –available slots from 5 minutes to 6.5 hours, once a year or as often as you can.
A variety of volunteering opportunities to choose from:

In our ISAAC program as mentors, lab assistants or instructors working with middle and high school students in our laboratories in East Hanover or Newark.
In our Virtual Laboratory program – as in-class or virtual mentor in a classroom at a participating school.
March 27, 2019
Sanofi Provides STEM Education Programs to Somerset County Students
Building upon the Sanofi commitment to supporting communities where it operates, and specifically enhancing Science, Technology, Engineering and Mathematics (STEM) education opportunities for young people, Sanofi is providing more than $80,000 in hands-on science programs to public school students in Somerset County.
Sanofi has partnered with New Jersey-based Students 2 Science (S2S), a nonprofit organization that was created to inspire, motivate, and educate elementary, middle and high school students to pursue careers in STEM, to conduct the programs. Read more here.
March 20, 2019
STATEWIDE CAMPAIGN TO SECURE MEDICINES IN THE HOME LAUNCHED TODAY
New Jersey REALTORS®, HINJ, PhRMA and the Partnership for a Drug-Free New Jersey join forces on a public-awareness campaign to thwart drug diversion.
Trenton, February 19, 2019 – Today the New Jersey Realtors, HealthCare Institute of New Jersey (HINJ), Pharmaceutical Research and Manufacturers of America (PhRMA) and Partnership for a Drug-Free New Jersey launched a campaign to educate Realtors and homeowners with an active listing, along with the general public, about the importance of securing medicines in their homes and properly disposing of unused drugs that are no longer needed.
The joint "Safe Home, Safe Sale" campaign was kicked off with a press conference at the Trenton headquarters of New Jersey Realtors.
"As Realtors, we are all very involved in our communities. While it was not something that we anticipated, we recognize the importance of this public awareness campaign," said 2019 NJ Realtors Immediate Past President Christian Schlueter. "We encourage every Realtor in our state to take a few minutes to inform sellers and their friends about the importance of securing their prescription drugs."
Alex Kelly, chair of the HINJ Board of Trustees and Executive Vice President, Corporate Affairs, Allergan said: "New Jersey's biopharmaceutical companies are pleased to stand with those on the front lines fighting drug abuse and addiction. When used properly, medicine can cure disease, control symptoms and improve patients' quality of life. But in the wrong hands, medicine can have serious and long-term consequences."
Dean J. Paranicas, HINJ President and Chief Executive Officer, said: "HINJ is pleased to join with the New Jersey Realtors, the Partnership for a Drug-Free New Jersey and PhRMA on this innovative initiative to educate the public on the importance of securing medicine in the household. We look forward to building on this partnership and engaging with other community leaders to stem the diversion and misuse of prescription drugs."
Angelo M. Valente, executive director, Partnership for a Drug-Free New Jersey, said: "The opioid crisis is impacting every community in our state and it is imperative that we all take steps to safeguard our homes. Last year, New Jersey lost over 3,000 residents to the opioid epidemic and securing and safely disposing of the prescribed opioids in our homes can protect our families and save lives."
Also speaking at the launch event was Special Agent Timothy P. McMahon of the U.S. Drug Enforcement Administration, New Jersey Division.
The campaign – "Safe Home, Safe Sale" – includes an educational brochure for Realtors to share with their clients, social media promotion leading viewers to a website with resources for Realtors and homeowners, and a curriculum for Realtors that will be offered as part of their required continuing education.
For disposing of unused medicines that are no longer needed, the campaign will point realtors, home sellers and the public to the American Medicine Chest website. It provides the locations of drop-off sites in New Jersey where people can safely and anonymously dispose of unused and expired medications.
# # #
AdvaMed Names Dean Paranicas Chair of State Medical Technology Alliance
The Advanced Medical Technology Association (AdvaMed) has named HINJ President and Chief Executive Officer Dean J. Paranicas to be chair of AdvaMed's State Medical Technology Alliance (SMTA). Beginning his term in January 2019, Dean is the sixth leader to serve as SMTA chair. He will build on the initiatives established by immediate past SMTA Chair Shaye Mandle of Medical Alley Association (2015-2018).
SMTA is a consortium of state and regional trade associations representing local medical technology companies. SMTA's mission is to provide collective support for the medical technology industry on the local, state and national levels by fostering a collaborative environment through sharing of best practices, promoting the industry, and advocating for public policies that support innovation.
AdvaMed is a trade association that leads the effort to advance medical technology in order to achieve healthier lives and healthier economies around the world. With over 400 members and more than 80 employees, AdvaMed has a global presence in countries including Europe, India, China, Brazil and Japan. 
AdvaMed's member companies range from the largest to the smallest medical technology innovators and companies. The Association acts as the common voice for companies producing medical devices, diagnostic products and health information systems.
Statement on the U.S.-Mexico-Canada Agreement from Dean J. Paranicas, HINJ President and Chief Executive Officer
"The HealthCare Institute of New Jersey (HINJ) and its member companies applaud the proposed United States-Mexico-Canada Agreement on trade for strengthening intellectual property protections that will reinforce America's global leadership in research and development. These protections will enable the continued medical innovation that is the lifeblood of our biopharmaceutical and medical technology community. We are hopeful for similar agreements in the future that expand the horizons for medical innovation in other parts of the world."
HINJ Media Contact:
Edward F. Tate III
Director of Communications
732-729-9619, ext. 344
tate@hinj.org