Members Portal &nbsp Join &nbsp Contact
HINJ Co-sponsors Rare Disease Day 2016; Focus on Building Relationships, Raising Awareness in Trenton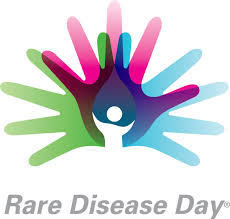 Trenton, NJ, March 1, 2016 ― The HealthCare Institute of New Jersey (HINJ) partnered with the New Jersey Rare Disease Alliance (NJRDA) on its activities to recognize Rare Disease Day 2016 on February 29 at the New Jersey Business and Industry Association (NJBIA) in Trenton.
The half-day event was also co-sponsored by BioNJ and the National Organization for Rare Diseases (NORD).
Speaking at the event, HINJ President and Chief Executive Officer Dean J. Paranicas emphasized the importance of a collaborative effort in building relationships with, and educating, policymakers, both in Trenton and Washington, DC.
"Even though any one of you may represent a fairly small community, think of the power, from an advocacy perspective, you will represent when you can say one in nine New Jerseyans has one kind of rare disease or another," Paranicas told attendees.
NJRDA Co-founder Julie Raskin said, "While there has been great progress in the rare disease community, there is still much to be done."
Raskin noted that the February 29 event reflected the 2016 global Rare Disease Day theme — "Join Us in Making the Voices of Rare Disease Heard" — by helping to build a bridge between patients, their advocates and policymakers.
The New Jersey Rare Disease Alliance (NJRDA) is dedicated to improving the lives of the 800,000 rare disease patients in NJ.  Inclusive of individuals and organizations across the rare disease continuum, the group's mission is to bring recognition to the issues rare disease patients face and to work together towards better treatment options and improved access to care.  For information, visit www.njrarediseasealliance.org.
Print This Post
HINJ Media Contact:
Edward F. Tate III
Director of Communications
732-729-9619, ext. 344
tate@hinj.org